Prenatal Pampering
By: Pamela Brill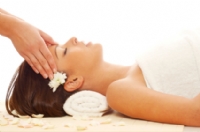 Ahhhh, spa... There isn't a pregnant woman alive who doesn't appreciate a little R&R. Be it in the form of a facial, massage or manicure, expectant moms deserve to nurture their changing bodies, especially at a time when their self image may not be at its best.
But before you go scheduling a cut and color, it's essential to know which beauty treatments are safest during the different stages of pregnancy—and which are off-limits until after giving birth. Experts reveal what to look for when booking your next spa visit, so you can enjoy a relaxing experience, worry-free.
Do Your Homework
Because the same place you go to have your hair colored may not necessarily be the ideal location to handle your current beauty needs, expectant moms should consider spas and salons that specialize in prenatal services. "There are no regulations requiring a spa service provider to have any special knowledge or experience prior to treating a pregnant mom," explains Heidi Moon, founder of spabebe, a spa and fitness center for pregnant women and new moms (spa-bebe.com). Before booking an appointment at a particular place, do a little investigative research. "Ask for a therapist who has opted for special training on prenatal treatments, and ask how frequently that therapist actually sees pregnant clients."
The products that will be used during any treatments are also cause for concern. "Look for spas that use natural ingredients, like aloe and milk, as opposed to chemicals," offers Jill Diana Chasse, a perinatal psychology consultant. She calls attention to the power of scent, a sense that can become heightened for many pregnant women. "Because you are more sensitive to certain scents, you may become nauseated by certain chemical smells in a salon or spa," she adds.
If you'll be getting your nails done, be mindful of the level of cleanliness in the mani/pedi station, where there's a risk of hepatitis B and nail fungus. "Be sure to inquire about the spa's sterilization protocols," says Moon. "You can always ask to watch as they clean or sanitize, or request that they open new utensils for your pedicure or manicure."
Safety at the Spa
When considering specific beauty treatments, experts urge expectant women to book appointments during the right stage of their pregnancy. In general, avoid scheduling spa visits during the first trimester, when the risk of miscarriages is at its peak. Once you're into the second trimester, waxing is a safe bet. "Your skin is tenderer due to hormonal changes, so it may be more painful and could become swollen," cautions Chasse.
Facials are typically safe and extremely relaxing. Moon says to avoid Retin A products, chemical peels and hydroquinone (a skin brightener). While chamomile lotions are permissible, Chasse says to skip Microderm abrasions and instead opt for a non-toxic hydrating mask. "Some spas use plant-based or herb-based scrubs which are generally safe," she adds.
Since many women often invest in hair color treatments, it's important to exercise caution when getting highlights. Experts advise waiting until the second trimester. "Many of the chemicals may have a teratogenic effect on your body, meaning they can be harmful to the developing fetus," says Chasse. "Instead, try highlighting that doesn't touch your scalp."
The Right Touch
If there's one spa treatment that many expectant moms crave—and whose safety experts can agree upon—it's a prenatal massage. "Massage helps de-stress mamas during pregnancy and also helps increase circulation, especially with pain in the neck shoulders, hips and lower back," says Chasse. Prenatal massage is advisable after 12 weeks, but should be avoided completely if any bleeding or discharge has occurred.
Most spas generally offer three types of massage: side lying with pillows, in a bed with a 'hole in the middle' for a face-down massage and the body cushion system. Avoid the hole in the middle option, advises Moon, and opt for the body cushion system. "The pelvic support and ability to properly bolster the belly in the face-down or prone position is excellent, and it provides head and neck support for side lying as well," she says.
When in the face-up position, Moon recommends using a wedge or inclining chair so you are not lying flat on your back. "It's also a good idea to bolster the right side up when lying on your back to avoid getting lightheaded," she adds. And while you're at it, don't forget a foot massage to soothe your swollen, tired tootsies.