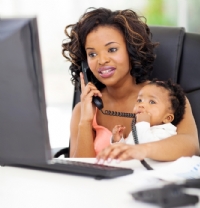 If you're like most new mothers living in the U.S., you are already back at work. According to the U.S. Bureau of Labor Statistics, nearly three quarters of all mothers are in the labor force, and mothers with young children account for 60 percent of the working world.
Deciding whether or not to return to work after having a baby isn't just a personal choice, but one often made out of necessity. For this piece, we highlight three working mothers to find out how they are juggling their new roles. We also heed advice from a career coach and a psychologist specializing in women's health on how to ensure a smooth transition.
Back to Business
For Debbie Mc Loughlin, the decision to return to work was made long before her daughter Gradie was born. A senior accountant for a healthcare provider, the St. Paul, Minn., mom was back at her desk immediately following her 12-week maternity leave.
"Leaving my little girl at daycare was the hardest," she says, recalling her initial anxiety over the fact that her daughter refused to take a bottle. To make it easier on everyone, Mc Loughlin called upon a family friend who happened to be a daycare provider. "She is able to have a lot of personal time and attention spent on Gradie, and she has the patience of a saint to help make sure Gradie gets enough breast milk daily," says Mc Loughlin.
While Mc Loughlin's employer did not offer any extended maternity leave or official flex hours, she is able to work from home when absolutely necessary. She also relies on her wife's family that lives locally and can help out with childcare.
Establishing a support network is not only vital for childcare, but for a new mom's overall well-being. This was the case for Amanda Larson, an attorney and mother of two in Greeley, Colo. She describes her self-employment as both "a luxury and a curse," as she immediately began returning work e-mails from the hospital after giving birth to her son who's now 11 months (her daughter is 3 ˝ years old). "I stopped into the office and drafted documents here and there, but far as my clients knew, I was on leave," she explains.
When Larson did return to work, both of her babies came to the office with her until they were each about four months old. In the case of her daughter, Larson said she "loved to chatter and it was hard to get work done and have phone conversations," while her mobile son would "roll and scoot all over the office, and I constantly had to chase after him instead of work."
Today, both of Larson's kids are in daycare and she is able to connect with close mom friends who have similar aged kids. "While we all have different family/work situations, it was always nice to get together and talk with someone who understood what I was going through," she adds.
Trying to Do it All
Managing a full-time work schedule, along with three young children (ages 6, 4 and 1), takes a great deal of finesse and fortitude. For Megan Bourque, a director for a corporate human resources firm, this Needham, Mass., mother must contend with an emotional tug-of-war and the sheer act of getting everyone up and out the door.
Having taken 3-4 months of maternity leave for each of her kids, Bourque returned to work part-time and then moved up to full-time status. Following the birth of her third child in December 2012, she transitioned from a consultant to a management position, still working four days a week. Juggling a new job with three kids is not without its challenges.
"The emotional challenge of leaving the baby (and my older kids) is always hard and comes with the guilt and difficulty of feeling like I am missing out on things at home," she says. "The biggest help in overcoming this was finding a great daycare situation where I know my kids are safe and happy."
To help ease the burden of the morning rush, Bourque and her husband prepare the night before: packing lunches, backpacks and diapers; loading the car and making meals ahead on Sunday nights and Wednesdays (her day off). "I would often put my bathrobe on over my work clothes to nurse the baby and avoid spit-up on my outfit," she adds of her early-rising routine.
Putting a system like this in place has helped Bourque immensely in her return to the office. She advises new moms planning to rejoin the work force to "prepare as much as you can in advance. Do a dry run with daycare…so on that first day, you don't have to worry about forgetting something."
Making it Work
As each of these women experienced, the return to work after having a baby is never easy, but as the experts can attest to, the process can be simplified by doing a little homework in advance.
Start by checking with your company's human resources department to find out what their policies are, suggests Kathleen Brady, a career coach in Manhattan. "Chat with other women who taken advantage of these policies to see how they work in practice," she adds. And if your company does not have a formal policy, use this as an opportunity to create your own. "Draft a business proposal indicating how you envision it could work, highlighting the benefits to your employer."
When speaking to a supervisor about maternity leave or returning to work, the right approach is everything. "Go into the conversation with the understanding that having children is normal and good," says Pamela J. Ginsberg, Ph.D., a licensed psychologist specializing in women's health. "Instead of asking if it's possible to take some time, state that you are going to take some time off and how can you best approach this situation."
And as with any change in life, cut yourself some slack if all doesn't go according to plan. "Understand that the process of adjusting to motherhood and returning to work as a mother is indeed a process, which means it will take some time to figure out," she adds.