Managing a Wintertime Pregnancy
By: Pamela Brill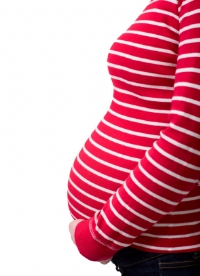 Cold temperatures, slushy roads, frosted windowpanes…ah, the joys of winter! To some, it's a picture postcard-perfect season that quiets the world with a fresh blanket of fallen snow. But for those women who are pregnant, it's a time fraught with slippery surfaces, bone-chilling winds and other potentially dangerous elements for themselves and their baby-to-be. With a little guidance from medical professionals, expectant moms can outsmart Old Man Winter and look forward to the arrival of spring—and the birth of their new family member.
Baby, It's Cold Outside
While most people are inclined to bundle up when the mercury drops, pregnant women don't necessarily benefit from the added bulk. "During pregnancy, women carry a built-in heat generator," says Sharon Perkins, a registered nurse based in Medford, N.J. and co-author of Dad's Guide to Pregnancy for Dummies. "The baby's temperature is slightly higher than mom's, which is why pregnant women often feel warm." She recommends dressing in layers, which traps air but also lets you shed a layer or two when you get too hot.
And when it comes to footwear, forego those Ferragamos and leave the high-heeled boots in the closet. "Wear shoes with good traction" to avoid possible falls, advises Dr. Michele L. Evans of Los Angeles, Calif. This is especially important for those who live in icy areas where a potential spill could result in head or abdominal trauma.
Bring on the Moisturizer
There's no season like a cold season to wreak havoc on dry skin. According to experts, expectant mothers are even more susceptible to the effects of harsh elements on their skin. "Skin tends to dry in the winter, due to external natural elements, as well as artificial factors such as forced hot air heating," says Dr. May Hseih Blanchard, assistant professor of obstetrics at the University of Maryland School of Medicine in Baltimore.
Dr. Christine Fruth, a Port Jefferson, N.Y.-based internist, recommends keeping skin hydrated with non-fragrance-based lotions, while Dr. Evans cautions against products containing retinoic acid.
And with regard to taking a long soak in the tub, doctors advise against it because hot baths can cause an increase in core body temperature. "Because you're not immersing your whole body in hot water during a hot shower, it is a safer choice," says Perkins. Just be sure to moisturize afterwards.
Hand Over the Shovel
As a woman's pregnancy progresses further and she gains more weight, she may notice that her center of gravity is somewhat off. Because she is a bit more wobbly, she is more prone to falls—a major reason why winter weather activities such as snow shoveling, sledding, skiing and skating should be avoided. "I would not recommend doing these activities beyond 20 weeks' gestation, especially with risk for falling and potential abdominal trauma," says Dr. Blanchard.
"Take your time, shovel only small amounts or, better yet, get someone else to do it for you," offers Perkins.
Lighten Your Latte Load
Hot cocoa, flavored teas and coffee are common—and frequent—indulgences during colder months, but again moderation is best when consuming hot beverages, especially caffeinated ones. Dr. Blanchard suggests one cup per day, while Perkins advises keeping caffeine intake to less than 200 mg per day. "Remember to count all caffeine intake, since chocolate and soft drinks, as well as hot tea and coffee, contain caffeine," she adds.
Or to truly play it safe, expectant mothers should follow Dr. Fruth's sage advice: "Minimize your caffeine intake since it can dehydrate. Water, water, water is best!"