Beauty Basics of Pregnancy
By: Pamela Brill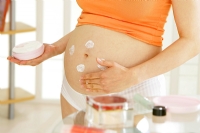 As soon as you tell the world you're expecting, practically everyone you know starts commenting on how wonderful you look. But maintaining that healthy glow during pregnancy doesn't always come naturally.
For moms-to-be who see their dentist or frequent the salon or spa over the next nine months, it pays to know which treatments are safe during each trimester—and which are worth holding off until your baby is born. To find out how to care properly for your skin, hair and teeth while you're expecting, read on to learn what the experts have to say.
Baby-Soft, Sun-Safe Skin
Along with a beautiful baby bump can come an aching back. If you're inclined to take to the tub to ease your lower back discomfort, be sure to keep the water warm—not hot—and hold off on the bubbles. "Hot tubs or anything that changes your body temperature is not permitted," says Dr. Daniel Roshan, a board-certified maternal fetal medicine specialist and high-risk obstetrician in New York.
Body wash and scrubs that can dry and rob your skin of precious moisture are also frowned upon. "Avoid harsh soaps, as they can remove the natural oil off your skin," says May Luis, spa and salon director at the Aveda Seven Seas Spa & Salon in Sunny Isles Beach, Fla.
To protect sensitive skin more prone to pregnancy-induced breakouts, be sure to slather on the moisturizer and don't forget the sunscreen, too. Dr. Janet Prystowsky, a board-certified dermatologist in New York, recommends sunscreens containing zinc oxide and titanium oxide because these [ingredients] are not absorbed into your bloodstream. "Most sunscreens contain a lot of chemicals…and while they may be safe, I think it is better to be more cautious and avoid exposing your baby to chemicals unnecessarily," she says. Pregnancy-friendly sunscreens include Aveeno SPF 30 Mineralblock and Aveeno Active Naturals 50.
Pregnancy Pampering
If you're planning a visit to the hair salon for a roots touch-up or a coloring during your pregnancy, Dr. Roshan suggests waiting until the first trimester is well underway: usually after 11 weeks. Dr. Prystowsky says to avoid full head coloring with permanent dyes, while highlights are generally OK because chemicals come off the scalp.
Planning on getting your nails done or a having a pedicure anytime soon? Both treatments are in the clear, with a caveat of no deep massages during a pedicure. "Avoid pedicures during the last two months because your feet will be swollen and at a greater risk of infection," cautions Dr. Prystowsky.
Waxing follows similar guidelines: safe, but your skin may be more sensitive during pregnancy. Facials and skin peels are fine, as long as they do not involve salicylic acid.
And if all those warms baths still haven't help soothe your aching back, and you're ready to indulge in a massage, be sure to schedule an appointment during the right stage of your pregnancy. "Avoid massages during the first trimester and any high-risk pregnancies," cautions Luis. "No deep massages around the ankles either." Dr. Roshan seconds this notion and cautions against any hard Swedish massages as well.
Polishing Those Pearly Whites
Just because you're pregnant doesn't mean visiting the dentist should fall by the wayside. In fact, it's more important than ever to maintain good oral health, thanks to the hormonal changes that occur during pregnancy.
"Cleanings are not only safe, but recommended due to the possibility of pregnancy gingivitis (gum disease)," says Dr. Margaret Mitchell, owner of Mitchell Dental Spa in Chicago. Dental work can be performed safely during the second and third trimesters.
But don't plan on getting any x-rays done until after your baby is born. "If there is significant disease or pain, most dentists and OBs agree to take x-rays with the extra precaution of two lead aprons," says Dr. Dina Jackson of State Street Smiles in Hackensack, NJ.
Existing filings that may become problematic during pregnancy can also be remedied safely with a modified amount of anesthetic. "We try to do most of our dentistry during the second trimester when the risk for miscarriage or premature labor is lowest," says Dr. Jackson.
Finally, hold off on any teeth whitening until after giving birth, as it's unclear how much of this type of product may enter the bloodstream and affect the fetus. So save your smile instead for beaming at your new arrival, and schedule any whitening appointments for after delivery.