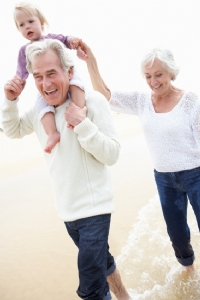 If you're lucky enough to have grown up with one or more of your grandparents, then you know how special that relationship can be. An undeniably significant presence in modern families, today's grandparents aren't just a source of homemade cookies and copious hugs, but have taken on the roles of caregiver and chauffeur and are involved in many other aspects of their grandbaby's day-to-day life.
Expectant parents who once considered themselves self-sufficient may come to rely upon their own parents in the coming months, especially once they are settled in at home with their newborn. For anyone about to become a new grandparent or for any parent-to-be, read on as to how this newfound role can have a profound effect on the next generation.
An Unbreakable Bond
In some ways, the grandparent/grandchild relationship is one of the more meaningful familial bonds in a young child's life. "Grandchildren bring a new dimension into your life," says Simon Brett, author of Baby Tips for Grandparents (Summersdale, 2013). "They are very easy to love, and what you feel for them is probably a simpler love than that which you feel for your children—no less intense, but more straightforward."
In the current family dynamic, grandparents assume a key role in a child's overall well-being and sense of self. "With both parents working and a high divorce rate, it's really critical for you to be there as a steady beacon for your grandkids," says Allan Zullo, co-author of A Boomer's Guide to Grandparenting (Andrews McMeel Publishing, 2004). "Studies have shown that children who enjoy close relationships with at least one grandparent feel totally accepted, are emotionally secure than those who have so such ties and gain comfort in knowing they have a place to go in times of trouble."
Lending a Helping Hand
Long before a child hits the rebellious teen stage, grandparents play a vital part in their grandbaby's upbringing—even as soon as they're born. "Babies love songs, stories and rocking chairs," says Robin Hewitt, co-author of The Joy of Grandparenting: 101 Practical Ideas & Meaningful Activities to Share Your Love (Hatherleigh Press, 2008). "I have sung to my babies and grandbabies a song my own mother used to sing to me as a child."
Not comfortable crooning a tune for a little one? There are a myriad of other ways grandparents can spend time with a newborn. "The most important thing a grandparent can offer new parent is practical help," says Brett. "Come bearing cooked meals to go in the freezer, or ask if there's any washing that needs doing."
When it comes to how you can be helpful with your new grandchild, don't be shy what a new parent wants or needs. "The key here is to help without being pushy, so it's important to follow the new mother's lead," offers Hewitt. "By asking what specific assistance would be the most help, you will also be building the new mom and dad's confidence in their own parental abilities."
Remembering Who's Boss
While it may be tempting to tell your daughter or daughter-in-law how to warm a bottle 'the right way,' it's important not to lose sight of just whose child this is. "My advice to all grandparents in discussions of parenting is to shut up," quips Brett. "Your children and their partners will have their own ideas on the subject and offering them unwanted advice is only going to stir up conflict."
Zullo concurs. "Do not offer the new parents unsolicited advice. They are liable to take it as criticism, no matter how you meant it. Are the young parents going to make mistakes? Sure, but that's how they learn; that's how you learned," he notes.
Instead, redirect your energies elsewhere by cultivating your new relationship. "Be involved in your new grandchild's life as an infant, toddler, a preschooler…and give as much time as you can," offers Zullo. And if you're a long-distance grandparent, he suggests visiting as often as possible or using Skype "so the infant can recognize your voice and face," he adds.
Boning up on Babycare
And for the times when you'll be called upon to unfold an umbrella stroller or buckle your grandchild in his or her car seat, it pays to reeducate yourself on the latest baby gear. "Take your expectant parents on a window shopping trip before the baby shower, and explore the gadgets together," suggests Hewitt. "This is a great way to involve the dad-to-be, as he can be placed in charge of…finding the pros and cons of different types of baby swings."
"Read the books, see the DVDs and visit the Web sites that the parents-to-be are using, so you can speak the same language," adds Zullo.
"Learning how to fit the car seat into your car is an absolute essential," stresses Brett. And while you're busy helping your kids get ready for their new arrival, don't forget to have fun, too. "Never worry about spoiling your grandchildren," he concludes. "That is the role for which grandparents were invented."