Breathe In, Breathe Out: A Prenatal/Postpartum Yoga Primer
By: Pamela Brill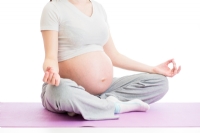 Close your eyes and take a deep breath. If you happen to be pregnant or if you recently had a baby, these simple acts can have some powerful, restorative effects on your body and overall well-being. And if you practice yoga, you know all too well how crucial it is to maintain your health—both for yourself and your new baby. For new mothers looking to incorporate yoga into their new lifestyle, here's how to get started.
Brimming with Benefits
When you consider the advantages of practicing yoga, you'll be hard-pressed to find a reason not to do it. "Prenatal yoga provides strength, flexibility and pain endurance for labor and delivery," says Barbara Brookens-Harvey, a social worker and yoga practitioner in Ann Arbor, Mich. (www.hygeiacenter.org). "It also increases the mother's awareness of her baby in utero, jumpstarting the bonding and attachment process."
Standard prenatal yoga poses may incorporate movements that lengthen the spinal column, expand the rib cage and enhance the mobility of joints in the pelvic region. "This can give women confidence in their body's ability to open for birth and teach them ways to ameliorate some possible discomforts experienced in pregnancy, such as back or hip pain," notes Marlene McGrath, a yoga teacher also based in Michigan (www.marlenemcgrathyoga.com) .
On top of the physical bonuses, experts also laud yoga for its mental health benefits, enabling likeminded people to create a nurturing environment that fosters a sense of community. "Women who continue to attend classes throughout their pregnancies form such a beautiful bond and friendship without any judgment or competition," says Lisa Bermudez, a New York City-based yoga instructor (www.lisabermudez.com) .
Getting Started
When looking for the right kind of prenatal yoga class, the experts advise doing your homework. McGrath recommends attending a class with an instructor who understands of the physiological changes that occur with pregnancy and how to adapt poses for the different stages of pregnancy. "These classes use props like a chair or yoga bolster to modify the postures as pregnancy progresses," she explains.
If you've never taken a yoga class before, be sure to ask how vigorous the classes can get. "A woman who has never done yoga before, but who is very active might enjoy a class that focuses on continuing to build muscle," offers Bermudez. "A woman who never exercises might enjoy a class with lighter stretches and breathing work."
Yoga by Trimester
Because each stage of pregnancy is different, it's important to practice yoga accordingly. In the first trimester, McGrath emphasizes restorative poses that allow for an increase in circulation to the pelvic area. Light stretches and restorative shapes are common during the first three months, a period that is often marked by nausea, fatigue and hormone changes. Bermudez cautions against over-stretching and over-extending during this trimester.
By the second trimester, a woman's balance can gradually shift, which can impact yoga poses. "It's helpful to find a prenatal class that uses a wall or a chair some of the balancing poses," offers Bermudez. Alternatively, McGrath suggests a variety of standing poses, including warrior 1 and 2, extended triangle, half-moon, seated and kneeling.
By the final trimester, she advises shorter holds and with the option for more modification.
Being Mindful
Even with a well-thought-out approach to prenatal yoga, you can easily overdo it. "Pregnancy is not a time to push the limits, but rather to pause, breath, watch and listen for the safe practice of yoga," says McGrath.
Instead of adopting a vigorous yoga routine that is focused on toning the body, think of yoga as a means of supporting yourself, especially during new motherhood. "I feel that moms need to use their practice to nurture themselves through breath, awareness and gentle, restorative poses, so they can, in turn, nurture their families," notes Brookens-Harvey.
With the go-ahead from their physician, most women can usually resume yoga four to six weeks after giving birth—but in moderation. "After consulting her doctor, she might begin slowly easing back into stretches," says Bermudez, adding that breathing exercises are especially helpful for women recovering from a c-section.
And when moms feel comfortable enough to include their baby in their yoga routine, experts suggest attending a class especially geared toward postpartum yoga or mommy and me. "These classes encourage engagement with the mother and baby, help the mother socialize and also show her healthy ways to move with the baby and get her strength back," offers Bermudez.