Father's Day Wish List
By: Pamela Brill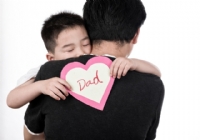 In the day-to-day rat race that is parenting, sometimes it is Dear Old Dad who is the last to be remembered. To make up for all those times when he handled those late-night feedings like a champ, and surprised your daughter at her ballet recital, here are some ways to say "thanks" on his special day.
Tech Treats
If your guy is one of the many who retreats to the bathroom with his iPad in hand, he'll really appreciate the Pedestal Stand for iPad with Roll Holder from CTA Digital (www.ctadigital.com). It features a bendable 10-inch gooseneck on a weighted pedestal base, so users can easily attach their iPad for their viewing pleasure. An optional toilet paper roll turns this practical accessory into a multitasking one—much like Dad himself.
Put printing in the palm of Dad's hand—literally—with the PlanOn PrintStik (www.planon.com), a miniature mobile Bluetooth and USB printer. Weighing in at only 1" x 2" X 11", it prints from Blackberry and Android smartphones via Bluetooth and comes with 20 pages of paper for 600-dpi resolution printing.
Golf Gear
Help the favorite man in your life improve his golf game with the SensoGlove (www.sensoglove.com). Built-in digital sensors continuously read grip pressure to ensure a smooth swing every time he putts. This leather glove offers a luxurious, comfortable fit, while helping any golfer learn to hold his club correctly and comfortably.
Also great for the green is the Tin Cup Golf Ball Marking Stencil (www.tin-cup.com), an all-in-one kit that lets Dad create a personalized ball mark by tracing a design to boost his handicap. The stainless steel cup can be customized with an original design, or players can choose from such themed motifs as Bombs Away, Jolly Roger (skull and cross bones), Luck of the Irish (shamrock) or Five O'Clock Somewhere.
Manly Maintenance
Even dads like to keep themselves looking their best, and their skin is no exception. Organic Male OM4 (www.om4men.com) offers a complete line of organic skincare products specifically tailored for different skin types. Available in dry, oily, normal and sensitive collections, each set contains four products with rejuvenating vitamin and antioxidant extracts for optimal skincare. There's also an Encore Collection featuring shaving products, as well as other pampering items like foot treatment and hand sanitizer.
Dapper Dad
Help your guy spruce up any workday ensemble with a pair of Cockpit Panel Cufflinks (www.bespokecustomgifts.com) . Fashioned from genuine military aircraft cockpit panels, these custom cufflinks represent a slice of history and are perfect for the pilot dad or any aviation buff.
For the new dad who swoops home from the office just in time for diaper duty, present him with a neck tie like no other. Smart Mom Jewelry's Babe Magnet Tie (www.smartmomjewelry.com) is no ordinary dress shirt accessory; tucked inside each fashionable tie is a built-in squeaker and rattle designed to keep little entertained and occupied during changing time. Warning: This gift may just have him handling blow-outs more often than he would have thought!
Record Refreshment
If your guy owns an iPod, but still misses cranking up tunes the old fashioned way, let him relive the sounds of his heyday—or at least, enjoy them during happy hour—with his own set of Record Label Coasters (www.bespokecustomgifts.com). Created from original LPs, each double-sized coaster features six assorted vintage record labels per set. They're specially laminated to protect against moisture from sweating brews, not to mention baby bottles and juiceboxes.