Mother's Day Wish List
By: Pamela Brill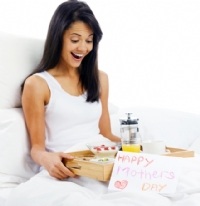 Breakfast in bed, a homemade card and a day that's all about you. That's what Mother's Day means for most moms, right? But if you ask any mother what she's really pining for this May, her answer might surprise you (hint: a few hours of alone time doesn't hurt).
If your family is stumped over what to buy you this year, here are a few favorites for both first-time mothers and seasoned veterans. Now start dropping those hints…
Jewelry/Fashion
Diamonds may be a girl's best friend, but new moms may be looking for something a little more…shall we say, practical. Smart Mom Jewelry (www.smartmomjewelry.com) has an entire line of chic pendants that teething babies will love just as much as Mom does. Made from non-toxic BPA- and lead-free silicon on soft cords, these necklaces feature a donut-shaped pendant and delicate beading that offer a safe alternative to costume jewelry.
For the hi-tech mom who wants to keep her kiddies close to her heart comes a modern twist on a classic. Bespoke Custom Gifts (www.bespokecustomgifts.com) makes a USB necklace that's actually a gold-plated locket with a mini 2-GB USB drive inside—perfect for holding those digital photos of the kids. Both the locket and USB drive can be engraved, but allow for a 2-3 day turnaround time when ordering.
Heading out for Mother's Day brunch with the family? You and your daughter can get all dolled up in designer dresses that won't break the bank. Kohl's (www.kohls.com) is showcasing an exclusive line of stylish ensembles under the Princess Vera Wang and Simply Vera Vera Wang, including dresses, handbags, shoes and other accessories.
Kitchen/Home Gadgets
Are you a whiz in the kitchen, but wish you had better tools to enhance your cooking abilities? Blendtec's Designer Series (www.blendtec.com) will have you whipping up smoothies, soups and more in no time at all. The mother of all blenders, it features one-touch, pre-programmed blending cycles, giving you the proper consistency for your concoctions. And did we mention that this blender is super-quiet? A big plus for extra-sensitive, little ears during Sunday morning pancake-making.
Any mom with a busy household knows that odor elimination is nothing to sneeze at. And as the calendar turns to summer and things begin to heat up, that means even more reasons for stinky situations. Give Mom's nose a break with the Honeywell with Febreze Freshness Cool & Refresh Tower Fan (www.target.com). This spacious fan is ideal for handling tough odors in larger places, like laundry rooms, mudrooms and pet litter boxes.
Photography Accessories
Like you, your favorite camera is a bona fide workhorse, diligently capturing memories of all your special family moments. Give your camera an updated look for spring with a fashionable camera strap from Capturing Couture (www.capturingcouture.com). Their extensive line of stylish straps and velvet-lined wristlets lets you hang on to your camera, and easily detach them when it's time for picture-taking.
And after you've taken some great shots of the kids, you can turn your digital photos into beautifully framed shots through SnapBox (www.snapboxez.com) . This easy-to-use digital service lets you submit your pictures—either via smart phone, e-mail or Instagram—choose a size and opt to have your customized photos shipped directly to your home. Photos are typically ready 5 days from date of order, so it's fast and convenient.
Beauty
You may not have received at that spa gift certificate you were hoping for, but that doesn't mean you can't enjoy the luxury of an at-home beauty treatment. Alberto Vo5's Salon Series (www.vo5haircare.com) offers a full range of shampoo, conditioner and other hair care products that rejuvenate and revive tired tresses, from a Total Recovery Deep Conditioning Hair Mask, to an Anti-Frizz & Shine Styling Cream
Now just lock the bathroom door and enjoy some pampering time. Happy Mother's Day!