Baby on Board: Traveling with Your Newborn
By: Pamela Brill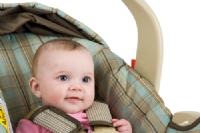 Planning on vacationing with your baby this summer? Whether you'll be taking to the friendly skies or hitting the road, the experts say it pays to be prepared. Below we reveal what to pack (and what's not worth lugging around), how to dress your little one and how to handle feeding on the go. Buckle up, 'cause here we go…
Getting Out of Town
Since you know you're not going to be able to pack up your baby's entire nursery with you, you need to determine what gear is essential—and what you can rent elsewhere. "It really depends on your destination," says Corinne McDermott, founder of Have Baby, Will Travel. She breaks down the necessities into four main categories: eating, sleeping, playing and getting around.
For feedings, McDermott advises having plenty of supplies on hand and a plan for keeping stuff clean. Sleeping and playing require determining a safe resting spot and a means for keeping your little one entertained, respectively. Sorting out your transportation needs—will you be in a place where you can stroll with your baby, and will you be driving around and need a car seat?—is a must before setting out.
For bulkier items like a high chair or play yard, renting is a viable option. "Renting baby gear and having it delivered to your travel destination can save precious cargo space and packing time," says Alisa Underwood, a registered nurse and owner of Calm Baby RN. However, she cautions, some rental companies charge for delivery, set up and pick up, so scout out possible resources in advance.
When it comes to car seats, though, the experts suggest bringing your own along instead of borrowing. "One cannot be completely certain on the history of a [rented] seat," says Underwood. "Parents may not be familiar with how the rental seat is to be installed correctly or used safely, and due to liability reasons, rental companies will not install the seats for you."
Now Boarding…
If your destination involves air travel, be mindful of the current TSA rules and regulations to avoid any unexpected issues at airport check-in. "You need to be prepared with an arsenal of snacks and toys that will keep your baby busy and fed during the flight," offers McDermott. "Any sleep should be considered a huge bonus." In the event of flight delays, Underwood suggests enough food and formula to last one full day.
And when packing your carry-on, it doesn't hurt to throw in extra diapers, another onesie and even a T-shirt for you in case of an unfortunate spit-up. And speaking of feeding, a couple of extra bottles and pacifiers are a good idea and don't take up much space. "Airplanes are notorious breeding grounds for colds and viruses," says Underwood. "Nothing is worse than getting settled on your vacation, only to have a sick child 2-3 days in." Plus, having something to suck on like a pacifier or bottle nipple will help relieve discomfort from changes in air pressure during take-off and landing.
To dress your baby for optimal comfort, layers are your best bet. "Use outfits with built-in feet, so you're not trying to keep track of tiny shoes that are likely to be kicked off," notes McDermott. Clothing that facilitates easy diaper changes—without too many buttons or snaps—is also ideal.
Go With the Flow
Because it might not be possible to overlap your baby's feeding schedule with your travel itinerary, you'll need to factor some flexibility into your routine. "With the excitement and commotion on travel day, your baby may not be as interested in eating," says Underwood. "They will make up for what they need once things calm down." Just be sure that your child stays hydrated and is going through 6-8 diapers 6-8 over the course of 24 hours.
And if you can manage to travel during nap time, by all means, go for it. "Long car rides and airplane rides are full of soothing white noise," notes Underwood, adding that it helps to cuddle up with a favorite blanket or "lovey."
Final Frontier
Even the most well-armed parent will find herself in an unsettling predicament while traveling with a young child. But, say the experts, if you set the bar low, you'll be better off. "It will seem like a lot of work at first, but know that every trip gets easier and easier," says McDermott. "One day, you will be the one extending a hand to someone else."