Combating Cabin Fever
By: Pamela Brill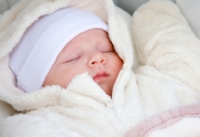 It's the dead of winter and you're home alone with your baby. She seems crankier than usual, but then again, so do you. It's a long way off until spring, and you wonder how you'll make it through this seemingly endless string of days spent indoors with your little one.
If you can relate to this scenario, you're not alone. Plenty of new moms have similar feelings, but they ultimately found ways to pass the time that not only benefitted themselves in the winter months, but for the long haul. Below, a handful of moms share their tales from the trenches and offer their advice for first-time moms getting acclimated to their new indoor routine.
The Agony of Getting Out
There's no sugarcoating it: Some moms are simply afraid of taking their little one out in the cold. "When parents worry about their baby catching germs during cold/flu season, it creates a lot of anxiety," explains Sara Binkley-Tow, a mom in Cannonsburg, Mich., and co-founder of MomsBloom, a support group for new parents. "And when the baby does sneeze, cough or sniffle, that can lead to more anxiety."
Alice Bradley, who wrote Let's Panic About Babies!, recalls the sheer agony of getting up and out with her newborn son in Brooklyn, NY. "Bundling him up past the point of recognition, finally making it outside…only to have a total stranger admonish me for bringing a baby outside" was, as she puts it, "dispiriting."
Co-author Eden Kennedy laments her own frustrating experience of taking her young son out during his first winter. "I had to protect my son from getting chilly and wet," she remembers. "The hardest part was getting those mittens on, and then finding out they'd fallen off four blocks earlier and his little hands were like ice cubes."
Just Do It
While the mere thought of heading out with a newborn in the cold weather can be daunting, in most instances, it's exactly what you both need. "What I was avoiding was the exact thing my baby wanted: he thrived when he was in the cold for short durations," says Binkley-Tow. "It was often the only way to calm him down when he was crying. While I dreaded bundling us both up, the benefits were worth it. Breathing in the fresh, cold air was often invigorating."
For those who are still a bit leery, Binkley-Tow suggests taking simple precautions, such as putting a covering over your baby's car seat to shield him from the elements. "As long as your baby is healthy, it's really okay to venture out," she notes.
Shelter From the Storm
Once you've gotten out of the house successfully, you'll want to make it worth your while (after all, it did take nearly a half-hour just to get your kid out of PJs and into the car!) Look for new mom groups in your area by searching online, so you can bond with other likeminded women.
Joanne Pitfick, a mother of three girls in Northport, NY, did just that with her firstborn. "I was a young mom who didn't know anyone with kids," she recalls. "Those groups were a lifeline for me. The friends I met continued to meet after the groups were over, and it was amazing."
"Joining a new mom group was the smartest thing I did then," seconds Bradley. "Some of the women I met in that group remain my closest friends. We're like war buddies."
Libraries are another safe haven for moms, offering story hours and other programs geared toward young children. "Libraries have baby lap time," says Binkley-Tow. "You can also check out some books or music for you and your baby while you are there."
Before you know it, the days will be growing longer and your baby will be getting bigger, too. But during those moments when it feels like those four walls are closing in, cut yourself some slack. "It's okay if you have a down day," says Binkley-Tow. "The gray days can make it difficult, but remember it's only temporary." Spring is just around the corner.