How to Build a Baby Gift Registry
By: Pamela Brill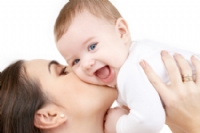 Ever since you found out you were expecting, you can't stop thinking about all those cute little outfits, that rubber ducky bath tub and oh…all that baby gear. Before you get too overwhelmed, think about how you can make your gift registry work for you.
"Most new moms can't wait to get that scan gun in their hands and start their baby registry," says Tara Shagawat, owner of Baby Smartz Concierge Services. "Remember, though, that the idea behind the registry is to guide others in getting you a gift." With tips from the experts, you can determine exactly what you'll need for your baby's first year and what to consider before you start shopping.
Ready and Waiting
When you're gearing up for your baby's arrival, consider how your current lifestyle will play a part. Ali Wing, author of The Giggle Guide to Baby Gear, offers the following considerations:
Space: How much—or how little—your home affords will determine which of the 'big ticket' items (crib, dresser and other furniture) you'll be able to accommodate.
Style: Are you a traditionalist who loves antique-y furnishings, or a design enthusiast who appreciates contemporary styling?
Portability: If you'll be making frequent treks to Grandma's, look for gear that's lightweight, compact and collapsible.
Don't forget to factor in your child's new environment when selecting larger items, like a stroller. "Urban moms should consider models with big, durable wheels, while suburban moms might want a stroller/car seat travel system," offers Teri Collaro, marketing planning manager, registry, Sears Holding Corp.
Also, if you're planning to return to work, she suggests registering for duplicates of such essentials as changing pads, diaper bags and bottles that you can keep at the office or at daycare.
Presents with Presence
Once you've assessed these basics, you'll want to create a checklist of must-have items for your new arrival. Experts say it helps to group must-have products by category, as this is typically how they are organized in store and online.
Activities: "Keep it simple," advises Shagawat, noting the popularity of books, music CDs, crib toys and a playmat.
Bathing/Diapering: an infant tub, diaper pail and liners. Wing says it doesn't hurts to register for baby wipes and diaper cream; while they may not be the most exciting presents, you can never have enough.
Feeding: breastpump (if nursing), bottles and highchair. "Don't register for too many bottles, though," cautions Shagawat, since you'll wind up using whatever bottles or nipples your child takes to.
Gear: Car seat, stroller and diaper bag.
Layette/Clothing: bodysuits, socks, hooded towels and bibs. "As the year goes on, babies will grow out of their first outfits," says Collaro. "It's a good idea to register for items in a variety of sizes and for seasonal gear."
Nursery: Crib, dresser and changing table.
At Your Service
Now, you're ready to select the best store or e-commerce site that will give you the white-glove treatment. With so many venues to choose from, experts offer some tips on what to look for:
Online registry and 24/7 access.
Flexible return schedule. Sears is able to accept returns on most items at store locations or shipped back within 90 days.
Special savings and offers. "You may even be able to purchase the remainder of your registry at a discount," says Shagawat.
Personalized service. "The good stores will even offer you appointments—either via phone or in person—outside of normal business hours," says Wing.
Happy shopping!